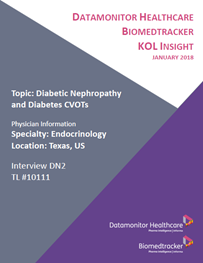 Diabetic Nephropathy/Diabetic Kidney Disease and Diabetes CVOT KOL Interview
January 24, 2018
We interviewed a leading US-based endocrinologist to gain insight into pipeline drugs for diabetic nephropathy (DN) and how they may be used by primary care and endocrinologists, particularly the SGLT2 inhibitors, which are already on the market for Type II diabetes. Since cardiovascular risk is of particular concern in DN and a couple of the SGLT2 inhibitors and GLP-1 agonists have had positive CV outcomes studies (CVOTs) in high CV risk diabetics, we also asked about these, as well as the implications of the amputation risk seen in Invokana's CVOT under various scenarios. Other topics included potential uses of drugs with other mechanisms (the mineralocorticoid receptor antagonist finerenone, endothelin A receptor antagonist atrasentan), implications of the related heart failure trials for DN patients, views of cardiologists, rapid progressors, and what the KOL would like to see in a new DN drug. The drugs discussed included Invokana (canagliflozin; JNJ/Mitsubishi Tanabe/Daiichi), Jardiance (empagliflozin; Boehringer/LLY), Farxiga (dapagliflozin; AZN), Victoza (NVO), finerenone (Bayer), and atrasentan (ABBV).
If you are a KOL Insight Subscriber, please access the interview (link) from our KOL Insight portal (Subscribers only).


Biomedtracker will be offering KOL Reports and Physician Pulse Surveys for purchase a la carte, or access to all reports and surveys can be purchased as a subscription to KOL Insight. For more information on KOL Insight subscription, please email Biomedtracker or call Biomedtracker Client Services at (858) 200-2357.

For our disclosures, please read the Biomedtracker Research Standards.
Indications Covered:
Cardiovascular Disease
Diabetes Mellitus, Type II
Diabetic Nephropathy
Additional Resources: