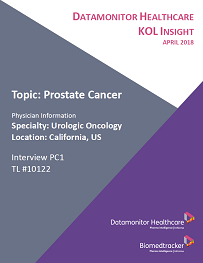 Datamonitor Healthcare Prostate Cancer KOL Interview
April 12, 2018
The interview covers the current and future treatment of prostate cancer, with special interest paid to the use of already approved and pipeline therapies in earlier treatment lines, including metastatic hormone-sensitive and non-metastatic castration-resistant prostate cancer. The interview focuses on the valuable endpoints utilised in Phase III clinical trials, the requirement for post-launch sequencing studies, and the key factors which will likely determine the relevant uptake of therapies in the same patient population.
If you are a KOL Insight Subscriber, please access the interview (link) from our KOL Insight portal (Subscribers only)
.
Biomedtracker will be offering KOL Reports and Physician Pulse Surveys for purchase a la carte, or access to all reports and surveys can be purchased as a subscription to KOL Insight. For more information on KOL Insight subscription, please email Biomedtracker or call Biomedtracker Client Services at (858) 200-2357.


| | |
| --- | --- |
| Disease Group Covered: | Oncology |