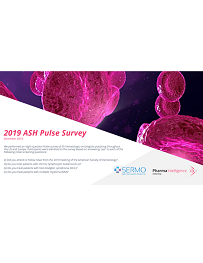 2019 ASH Pulse Survey
January 10, 2020
This 8-question Pulse survey of 55 hematologic oncologists practicing throughout the United States and Europe asks respondents their thoughts on several topics presented at the 2019 American Society of Hematology (ASH) Annual Meeting. Survey questions and additional resources are listed further below.
If you are a KOL Insight Subscriber, please access the survey from our KOL Insight portal (Subscribers only)
.
Biomedtracker will be offering KOL Reports and Physician Pulse Surveys for purchase a la carte, or access to all reports and surveys can be purchased as a subscription to KOL Insight. For more information on KOL Insight subscription, please email Biomedtracker or call Biomedtracker Client Services at (858) 200-2357.
For our disclosures, please read the
Biomedtracker Research Standards
.
Survey Questions:
Screening Questions: (i) Did you attend or follow news from the 2019 meeting of the American Society of Hematology? (ii) Do you treat patients with chronic lymphocytic leukemia (CLL)? (iii) Do you treat patients with Non-Hodgkin Lymphoma (NHL)? (iv) Do you treat patients with multiple myeloma (MM)?
Q1. In the efficacy-evaluable population of the Phase I TRANSCEND study of the CD19 directed CAR T-cell therapy lisocabtagene maraleucel (liso-cel), the overall response rate (ORR) was 73% and the complete response (CR) rate was 53% in patients with R/R large B-cell lymphomas (LBCL). If liso-cel is approved, which CAR T-cell therapy would you recommend for R/R LBCL patients?
Q2. Mosunetuzumab is a CD20-CD3 T-cell engaging bispecific antibody being tested in people with relapsed or refractory B-cell NHL. At ASH, a dose-escalation study showed an ORR of 63% (n=42/67) in slow-growing NHL (mostly follicular lymphoma) and 37% (n=46/124) in aggressive NHL (mostly DLBCL). Additionally, data demonstrated a CR rate of 43% (n=29/67) in slow-growing NHL and 19% (n=24/124) in aggressive NHL. If these results are reproduced in a pivotal trial, what setting is most appropriate for mosunetuzumab?
Q3 & Q4. Three new regimens were approved for front-line CLL in 2019: (i) Imbruvica (ibrutinib) + Gazyva (obinutuzumab), (ii) Venclexta + Gazyva, and (iii) Calquence (acalabrutinib) with and without Gazyva. Please rank these therapies in order of preference for younger (fit and/or <70 years) and older (>70 years and/or unfit) newly diagnosed CLL patients, with one being highest and seven being lowest:
Q5. Which statement about the use of chemoimmunotherapy regimens such as FCR (fludarabine/cyclophosphamide/rituximab) or BR (bendamustine/rituximab) in front-line CLL do you agree with the most?
Q6. BCMA-directed therapies presented strong results in R/R multiple myeloma. CAR-T regimens LCAR-B38M and ide-cel achieved a 100% and 73.4% ORR in the Phase IB/II CARTITUDE-1 and Phase II KarMMa trials, respectively. BCMA-CD3 bispecific, CC-93269, achieved an 89% ORR in early results from the Phase I RRMS trial. Finally, BCMA-directed ADC belantamab mafodotin has shown a 60% ORR in the Phase I DREAMM-1 Study. If all are approved on such results, which BCMA therapy are you most likely to prescribe?
Q7. In which of the following indications do you think CD3 bispecific antibodies have the most clinical potential? Please rank them, with 1 being the indication where bispecific antibodies have the highest potential and 8 being the indication where bispecific antibodies have the lowest potential.
Q8. A Phase Ib trial evaluated venetoclax and azacitidine in treatment-naïve patients with higher-risk MDS. With 57 evaluable patients, ORR was 77% with a CR rate of 39% and a marrow CR rate of 39%. A separate trial evaluated magrolimab with azacitidine in untreated high-risk MDS. With 35 evaluable patients, the ORR was 92%, CR was 44% and marrow CR was 33%. Assuming these therapies are approved, please rank them in order of preference for high-risk MDS patients, with 1 being preferred most.
| | |
| --- | --- |
| Disease Group Covered: | Oncology |
Additional Resources: