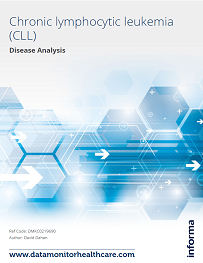 Datamonitor Healthcare Oncology Disease Analysis: Chronic Lymphocytic Leukemia (CLL)
March 21, 2022
The CLL treatment paradigm has changed significantly over the past five years, with targeted therapies such as Bruton's tyrosine kinase (BTK) inhibitors and BCL-2 inhibitors displacing chemotherapy-based treatments for most patients who have CLL.
Monotherapy with the BTK inhibitor Imbruvica is the preferred front-line therapy and induces durable remissions in the majority of patients. However, most of these remissions are only partial responses, and long-term treatment is required which can be complicated by adverse toxic effects (cardiac arrhythmias, fungal infections, and bleeding) and the emergence of resistance.
This Datamonitor Healthcare report contains a Disease Analysis module.
| | |
| --- | --- |
| Indications Covered: | Chronic Lymphocytic Leukemia (CLL)/Small Cell Lymphocytic Lymphoma (SLL) - NHL |