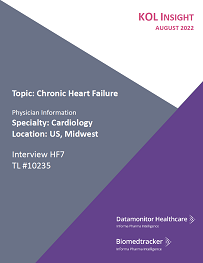 Chronic Heart Failure KOL Interview – US, Midwest
August 15, 2022
This interview with a US-based key opinion leader (KOL) provides insights into patient segmentation, as well as prescribing trends for key marketed brands and late-phase pipeline therapies for chronic heart failure (CHF). Marketed brands discussed include Entresto, Farxiga, Jardiance, Corlanor, and Verquvo, while pipeline therapies highlighted are Furoscix, Invokana, Kerendia, omecamtiv mecarbil, Revascor, and Zynquista.
If you are a KOL Insight Subscriber, please access the interview from our KOL Insight portal (Subscribers only).

Biomedtracker will be offering KOL Reports and Physician Pulse Surveys for purchase a la carte, or access to all reports and surveys can be purchased as a subscription to KOL Insight. For more information on KOL Insight subscription, please email Biomedtracker or call Biomedtracker Client Services at (858) 200-2357.

For our disclosures, please read the Biomedtracker Research Standards.
Indications Covered:
Chronic Heart Failure - Preserved Ejection Fraction (Chronic HFpEF)
Chronic Heart Failure - Reduced Ejection Fraction (Chronic HFrEF)
Chronic Heart Failure and Cardiomyopathies - Unspecified
Additional Resources: