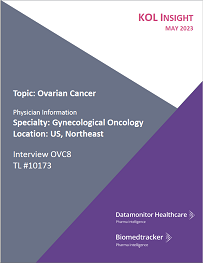 Ovarian Cancer KOL Interview - US, Northeast
May 25, 2023
This interview with a US-based key opinion leader (KOL) provides insights into prescribing habits, key marketed brands, and late-phase pipeline therapies for ovarian cancer. Treatment strategies split by disease stage, as well as unmet needs, are also discussed. Key pipeline assets highlighted include upifitamab rilsodotin, veliparib, and Olvi-Vec.
This interview was conducted on 14 April 2023.
If you are a KOL Insight Subscriber, please access the interview from our KOL Insight portal (Subscribers only).
Biomedtracker will be offering KOL Reports and Physician Pulse Surveys for purchase a la carte, or access to all reports and surveys can be purchased as a subscription to KOL Insight. For more information on KOL Insight subscription, please email Biomedtracker or call Biomedtracker Client Services at (858) 200-2357.
For our disclosures, please read the Biomedtracker Research Standards.
| | |
| --- | --- |
| Indications Covered: | Ovarian Cancer |
Additional Resources: