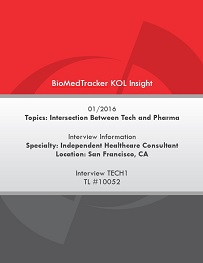 Intersection Between Tech and Pharma KOL Interview
January 12, 2016
If you are a KOL Insight Subscriber, please access this report here, in our KOL Insight portal (Subscribers only)
.
Highlights
KOL has over 20 years of experience working on the clinical, operational, and financial side of healthcare
Healthcare system shifting from fee-for-service towards value-based and shared risk capitation
Pharma and biotechs are reluctant to partner with tech companies because they think that they can take a solution from banking and apply it into healthcare
Better research will be done with tech's help to collect, integrate, and aggregate data sets. However, it's not just the quantity of data, it's the quality of data that is important so that we can hone in on individual patient needs
Genomics is going to be huge, more than it's ever been, and will help to do research on particular trends in an individual's genes
This KOL interview accompanies a full
special report
on the intersection between tech and pharma:
BioMedTracker will be offering KOL Reports and Physician Pulse Surveys for purchase a la carte, or access to all reports and surveys can be purchased as a subscription to KOL Insight. For more information on KOL Insight subscription, please email BioMedTracker or call BioMedTracker Client Services at (858) 200-2357.
For our disclosures, please read the
BioMedTracker Research Standards
.
Disease Group Covered:
Allergy
Autoimmune/immunology
Cardiovascular
Dermatology
Endocrine
ENT/Dental
Gastroenterology (Non Inflammatory Bowel Disease)
Hematology
Infectious Disease
Metabolic
Neurology
Not Specified
Obstetrics/Gynecology
Oncology
Ophthalmology
Orthopedics
Psychiatry
Renal
Respiratory
Rheumatology (Non Autoimmune)
Urology
Additional Resources: