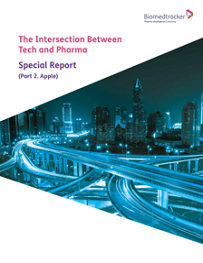 The Intersection Between Tech and Pharma Special Report (Part 2. Apple)
*Included free with BioMedTracker Subscription - click here to log in
January 14, 2016
In January 2015,
Fortune
reported that at $2.9tn, the state of the US healthcare industry is very strong and continues to grow. Additionally, a
Top Issues
report revealed that 40% of Fortune 50 companies pursued new healthcare partnerships in 2014. Given the rapid change in the healthcare industry over the last few years, it is no surprise that we are starting to see more non-traditional healthcare partnerships, specifically with big tech companies.
Google, Apple, and a number of other technology companies, have all made announcements about collaboration and license opportunities with pharma and research institutions. Biotech and Pharma companies are built around biology and science, millions of dollars of investment, and lengthy clinical trials and tech leaders, like Google and Apple, see this as an opportunity. Both tech and pharma companies can build off each other's strengths. Tech companies can digitize, better collect and analyze data. Biotech, research institutions, and pharma have the medical and regulatory knowledge to understand the biology and take a drug through the lengthy approval process. This collaboration would allow for companies to better understand diseases, in their origin and how to treat them.
With little information available about long-term goals and intention, we can only speculate about the changes that tech companies could create in the pharmaceutical and biotech industry. With additional investment and a new tech interest in the crossover between these fields, the pharmaceutical industry could be taking a big step towards finding cures, instead of spending a lifetime treating chronic illness.
This report will be split into three parts:
Part 2 - Apple (HealthKit and ResearchKit)
Note: Part 1 includes information on Qualcomm and part 2 includes information about the partnership between IBM and Apple.
Main author: Armando Uribe (Analytics Analyst, BioMedTracker)
With contributions from: Edny Inui (Senior Scientific Analyst, BioMedTracker), Laurie Withington (Principal Analyst, Citeline), and Doro Shin (Principal Analyst, Citeline).
This report accompanies an interview with a KOL who has over 20 years of experience working in the healthcare industry.
There are 3 total parts to this special report.
The second and third parts of the report will sell to non-subscribers for $5,000.
For our disclosures, please read the
BioMedTracker Research Standards
.
Disease Group Covered:
Allergy
Autoimmune/immunology
Cardiovascular
Dermatology
Endocrine
ENT/Dental
Gastroenterology (Non Inflammatory Bowel Disease)
Hematology
Infectious Disease
Metabolic
Neurology
Not Specified
Obstetrics/Gynecology
Oncology
Ophthalmology
Orthopedics
Psychiatry
Renal
Respiratory
Rheumatology (Non Autoimmune)
Urology
Additional Resources: