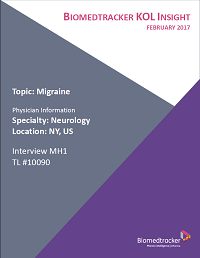 Migraine KOL Interview
Retail Price: $599.00
*BioMedTracker Subscriber Price: $399.00 - click here to log in

February 08, 2017

We interviewed a neurologist based in the US who specializes in headache medicine to gauge his current and anticipated future use of acute and prophylactic agents in the treatment of episodic and chronic migraine. The drugs discussed include the anti-calcitonin gene-related peptide (CGRP) receptor monoclonal antibody AMG 334 (AMGN), anti-CGRP monoclonal antibodies ALD403 (ALDR), LY2951742 (LLY) and TEV-48125 (TEVA), small molecule CGRP receptor antagonists atogepant (AGN), ubrogepant (AGN) and telcagepant (MRK), small molecule 5HT1F receptor agonist lasmiditan (CLCD), Botox (AGN), triptans Imitrex (GSK), Maxalt (MRK) and Topamax (JNJ), Treximet (PTX), Atacand (AZN) and TI-001.



If you are a KOL Insight Subscriber, please access the interview from our KOL Insight portal (Subscribers only).



Biomedtracker will be offering KOL Reports and Physician Pulse Surveys for purchase a la carte, or access to all reports and surveys can be purchased as a subscription to KOL Insight. For more information on KOL Insight subscription, please email Biomedtracker or call Biomedtracker Client Services at (858) 200-2357.

For our disclosures, please read the Biomedtracker Research Standards.
| | |
| --- | --- |
| Indications Covered: | Migraine and Other Headaches |