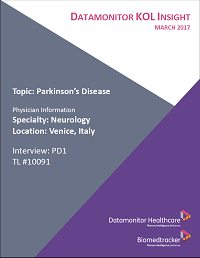 Datamonitor Healthcare Parkinson's Disease KOL Interviews
Retail Price: $599.00
*BioMedTracker Subscriber Price: $399.00 - click here to log in

March 16, 2017

Datamonitor Healthcare interviewed two neurologists, one based in Italy and the other in the US, to gauge their prescribing habits and views on current treatment options and challenges, late-stage clinical candidates and pricing and reimbursement considerations for Parkinson's disease. The drugs discussed are listed below. The two interviews were combined into a single report.

APL-130277, Apokyn (STDAF), Aricept (ESALY), Azilect (TEVA), Clozaril (NVS), Comtan (NVS), CVT-301 (ACOR), Duopa (ABBV), Exelon (NVS), Mirapex, Namenda (AGN), ND0612H (NDRM), ND0612L (NDRM), Neupro, Northera (HLUKF), Nouriast, Nuplazid (ACAD), Ongentys (NBIX), preladenant (MRK), Requip IR (GSK), Rytary (IPXL), Seroquel (AZN), Symmetrel (ENDP), Tasmar (MYL), tozadenant (ACOR), Xadago, Zonegran (CXRX).



If you are a KOL Insight Subscriber, please access the first and second interview from our KOL Insight portal (Subscribers only).



Biomedtracker will be offering KOL Reports and Physician Pulse Surveys for purchase a la carte, or access to all reports and surveys can be purchased as a subscription to KOL Insight. For more information on KOL Insight subscription, please email Biomedtracker or call Biomedtracker Client Services at (858) 200-2357.

For our disclosures, please read the Biomedtracker Research Standards.
| | |
| --- | --- |
| Indications Covered: | Parkinson's Disease (PD) |