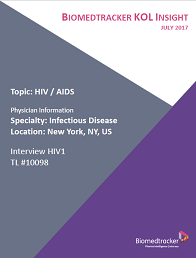 HIV KOL Interview
Retail Price: $599.00
*BioMedTracker Subscriber Price: $399.00 - click here to log in

July 03, 2017

We interviewed a US-based KOL who specializes in HIV treatment to gauge his views on marketed and pipeline drugs and current standard of care for HIV patients. The drugs discussed include ABX464, bictegravir (GILD), Darunavir/Emtricitabine/Cobicistat/TAF (JNJ), Descovy (GILD), doravirine (MRK), Edurant/Tivicay (GSK), Genvoya (GILD), GSK-1265744 LAP (GSK), ibalizumab (THERF), Isentress (MRK), Odefsey (GILD), PRO 140 (CYDY), Tivicay (GSK), Tivicay/Epivir (GSK), Triumeq (GSK) and Truvada (GILD).



If you are a KOL Insight Subscriber, please access the interview from our KOL Insight portal (Subscribers only).



Biomedtracker will be offering KOL Reports and Physician Pulse Surveys for purchase a la carte, or access to all reports and surveys can be purchased as a subscription to KOL Insight. For more information on KOL Insight subscription, please email Biomedtracker or call Biomedtracker Client Services at (858) 200-2357.

For our disclosures, please read the Biomedtracker Research Standards.
| | |
| --- | --- |
| Indications Covered: | HIV / AIDS |