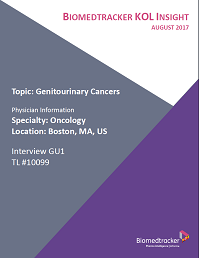 GU Cancer US KOL Interview
Retail Price: $599.00
*BioMedTracker Subscriber Price: $399.00 - click here to log in
August 11, 2017
We interviewed a US-based KOL specializing in genitourinary (GU) cancers with a focus on immunotherapies for bladder and prostate cancers. Major topics included incorporation of immunotherapies for GU cancers, PD-L1 biomarker testing and combination therapies. The drugs discussed included Bavencio (avelumab, MKGAY), Cyramza (ramucirumab, LLY), Imfinzi (durvalumab, AZN), Keytruda (pembrolizumab, MRK), Opdivo (nivolumab, BMY), Tecentriq (atezolizumab, RHHBF) and Yervoy (ipilimumab, BMY).
If you are a KOL Insight Subscriber, please access the interview from our KOL Insight portal (Subscribers only).


Biomedtracker will be offering KOL Reports and Physician Pulse Surveys for purchase a la carte, or access to all reports and surveys can be purchased as a subscription to KOL Insight. For more information on KOL Insight subscription, please email Biomedtracker or call Biomedtracker Client Services at (858) 200-2357.

For our disclosures, please read the Biomedtracker Research Standards.
Indications Covered:
Bladder Cancer
Prostate Cancer