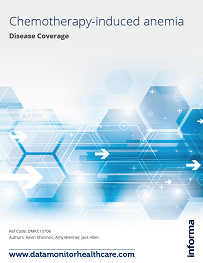 Datamonitor Healthcare CV&Met: Chemotherapy-Induced Anemia Disease Coverage
May 02, 2018
Anemia is a common complication in cancer patients, and can arise due to the malignancy itself (cancer-related anemia) or chemotherapy treatment (chemotherapy-induced anemia [CIA]). CIA occurs because of the myelotoxicity of chemotherapy drugs, which impairs erythropoiesis and results in a decreased number of circulating red blood cells and a diminished ability to transport oxygen around the body.
Additionally, there is evidence that anemia lowers patient response to chemotherapy and radiotherapy, as tumor hypoxia can cause resistance to cancer treatment.
This Datamonitor Healthcare Disease Coverage report contains Forecast, Treatment, Epidemiology, Marketed Drugs, and Pipeline modules.
| | |
| --- | --- |
| Disease Group Covered: | Hematology |